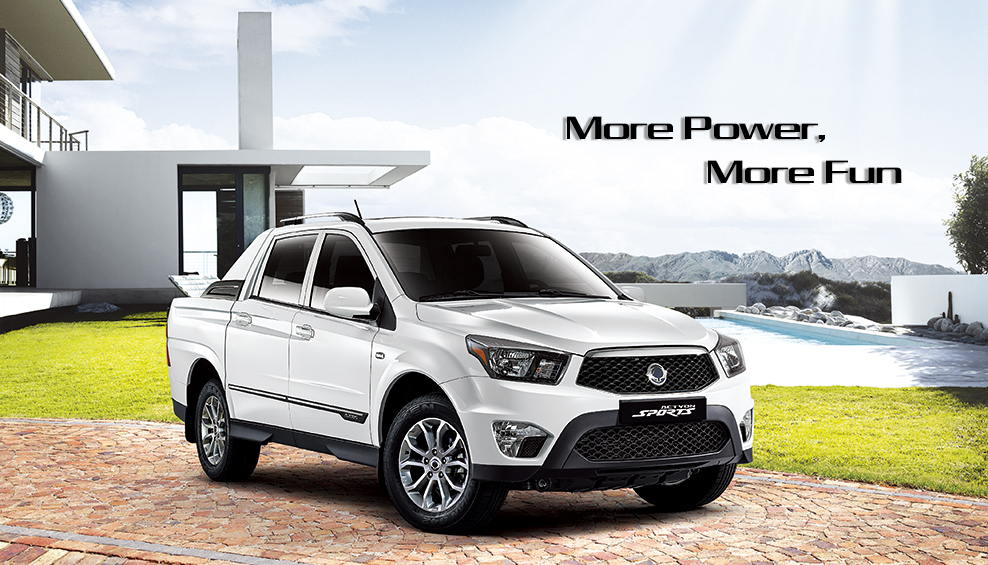 SsangYong Actyon Sports 2.0L Diesel Ute
Features:
'She's a real beauty' Sir Colin Meads The sharp front hood character lines, the mesh radiator grille and ladder bumper bring out the rugged good looks of the Actyon Sports. This versatile ute has a stylish design combined with a charismatic appeal that will let you stand apart from the crowd in any environment.

PERFORMANCE
​

SAFETY
​

INTERIOR
​

TECHNOLOGY



COLOURS
​
The engine is powerful and economical... it's a beast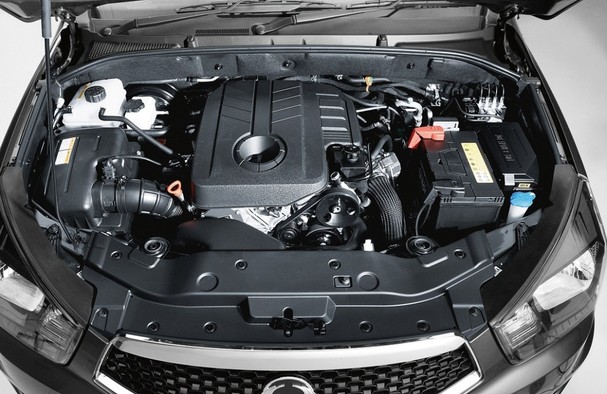 The Actyon Sports has one of the most powerful engines in its class, capable of towing loads as heavy as 2,500kg. The 2.0L diesel engine with direct injection puts out 155hp and is optimised by low-end torque of 190Nm at 1,100rpm rising to 360Nm from 1,800-3,000rpm.
2.0L e-XDi Active Diesel Engine
The new 2.0L diesel with direct injection is optimised by high-end torque of 360Nm, one of the best in its class. This capability provides quick starts in low gear. Automatic and Manual option available.
5 speed Auto Transmission

The Actyon Sports now comes with the superior E-tronic 5-speed automatic transmission found in many world-class, top performance motor vehicles. This sophisticated technology contains an AI programme that monitors driving conditions and anticipates the drivers intentions. Shifting at the optimal time delivers the best driving performance and fuel efficiency.

Thumbs Up Manual Mode

New Actyon Sports with automatic transmission features a sporty driving option. Switches on the gearshift knob and steering wheel let the driver shift gears up or down manually.

6-speed Manual Transmission

The manual transmission now has six forward gears, enhancing fuel efficiency, handling and eco-friendliness. The CO2 level has been lowered to 196 g/km in rear-wheel drive and 199 g/km in part-time 4-wheel drive, which satisfies the tougher Euro emission standards.
Safety and driveability go hand in hand
Your safety--and the safety of your passengers--is top priority, and the Actyon Sports is the Ute that will help you stay safe even as you go on adventures. Driver and front passenger air bags come standard, as does four-channel anti-lock brake system with electronic brake distribution. In case of a wreck, the Actyon Sports comes with door impact beams for side impact protection and a collapsible steering column. A full size spare tyre is included to help you avoid sticky situations that might otherwise leave you stranded.

Actyon Sports is equipped with an ultra-rigid steel frame chassis with triple-layer construction for maximum passive safety protection under all road conditions. The pre-tensioner seatbelts and load limiters work in tandem with the air-bag system to minimise the possibility of injury should the vehicle be involved in a collision.
Superb ride and handling
A top of the line suspension system including double wishbone suspension for the front wheels and 5-link suspension for the back wheels, delivers a superb ride and handling. Excellent ride comfort and driving stability are maintained on rough roads and through sharp turns.
Convenience
Actyon Sports comes with Bluetooth Wireless Communication to answer phone calls without letting go of the steering wheel. The trip computer may be used to monitor travel distance, travel time and average/immediate fuel consumption as well as to adjust gauge brightness. Eco Cruise Control and Hinge Springs to assist with closing the tailgate are just a few convenient extras designed to improve the experience of owning and driving this ute.
Technology
When you drive the Actyon Sports, you'll be pleased to find that it has a CD player with MP3 capabilities--and it even comes with steering wheel mounted audio controls! The headlamp levelling device uses technology to make sure you can always see properly (and to help prevent drivers in front of you from being temporarily blinded by the headlamps).
New Actyon Sports with automatic transmission features a sporty driving option. Switches on the gearshift knob and steering wheel let the driver shift gears up or down manually.
It's practical and versatile