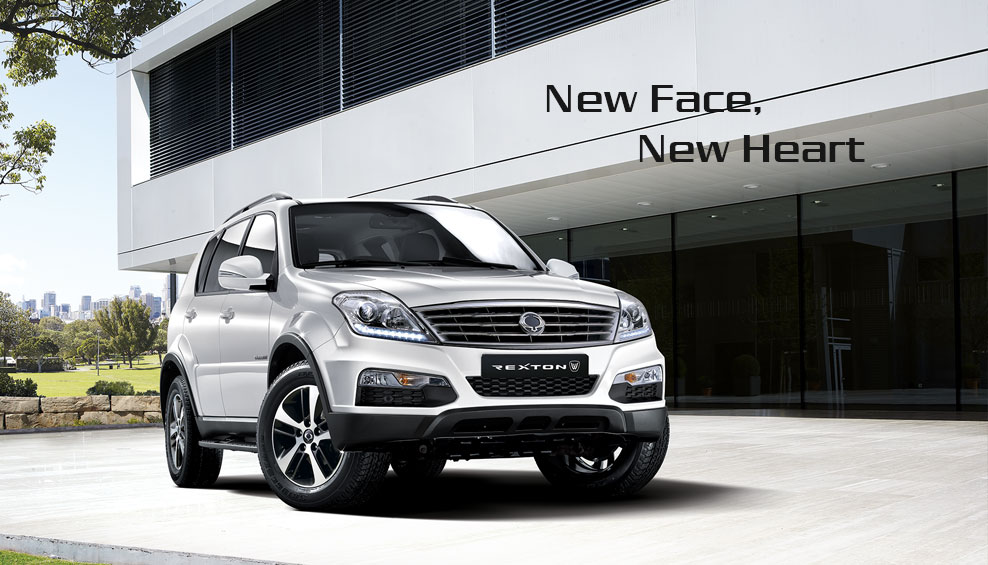 Rexton
(7 Seater)

Rexton 360 New Generation
The Rexton 360 New Generation range includes a Sport model and SPR (premium) model. It has been introduced to offer passengers a smooth, quiet ride whilst still having the versatility and value of the original Rexton model.

Rexton 360 Sport, 2WD, 5 Spd Auto $43,990+ORC
Rexton 360 Sport P/Time 4WD, 6Spd Man $43990+ORC
Rexton 2.7 Sport 402, AWD, 5 Spd Auto $47,990+ORC
Rexton 2.7 SPR 402 , AWD, 5 Spd Auto $59,990+ORC
​Rexton 2.2 Sport P/T 4WD, 7 Spd Auto $49,990+ORC
​Rexton 2.2 Spr, P/T 4WD, 7 Spd Auto $54,990+ORC


TV Advert
Features And Benefits
The Rexton offers many little extras that make a big difference in how you feel about your SUV. You are treated to the comforts you would expect from a luxury vehicle. It has been crafted for those that truly appreciate excellence and who love to drive.
---
Exterior:
Towing Capacity
The Rexton has always been a great vehicle for Kiwi's with an outdoor lifestyle. Depending on which model you opt for, it can tow up to 3,200kg comfortably - perfect for those needing to tow boats, caravans or horse floats.
---
Interior:
Value and Flexibility
The 7 seater Rexton is super practical, allowing you to do more and carry more. The 7 seats can be configured multiple ways for maximum utilisation of the spacious interior. The roof rack is suitable for carrying bikes and other long and bulky items you might need for day trips or holidays.

Bluetooth
The Rexton W comes with Bluetooth connectivity to ensure safe communications whilst driving.
---
Performance:
The Engines: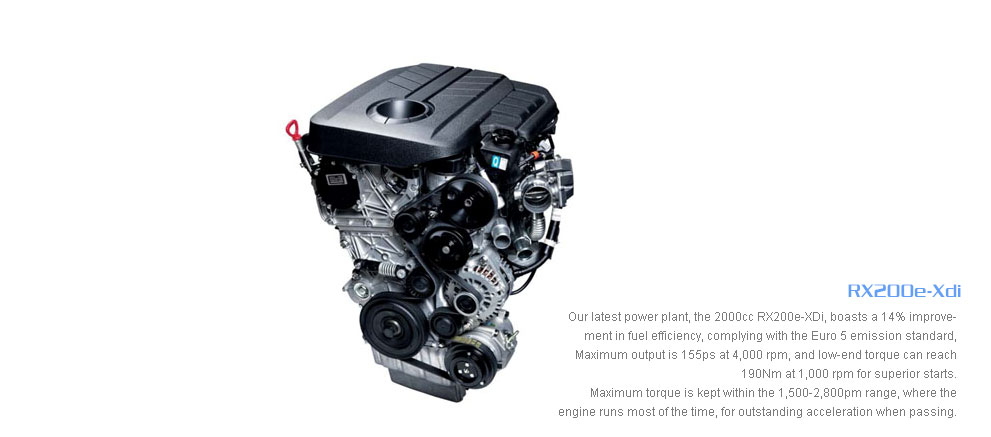 e-XDi Active Diesel Engine (Sport 360 and SPR 360)
The new 2.0L diesel engine with direct injection is optimised by high-end torque of 360Nm with low fuel consumption of 7.3l/100km and provides an exceptionally quiet and smooth ride.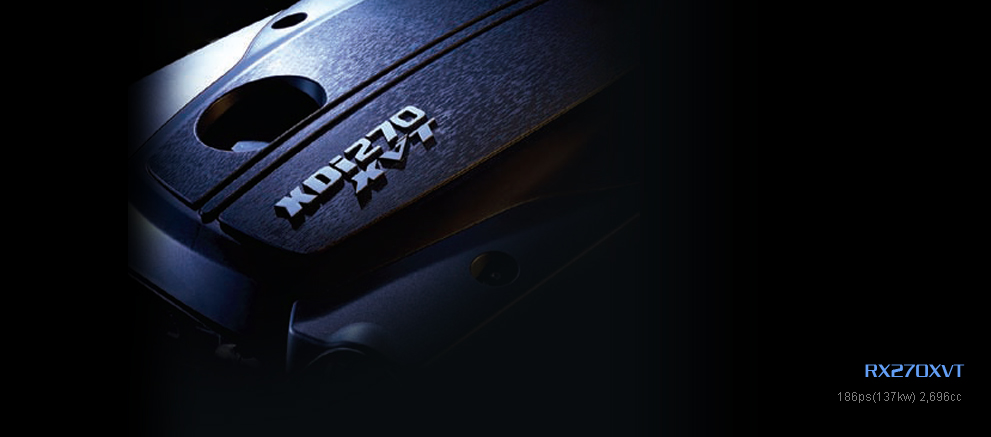 RX270Xdi (TeamMate)
This intercooled turbo, common rail 2.7 litre diesel generates maximum power of 121kW @ 4000rpm and maximum torque of 340Nm @ 2400rpm. It is equipped with a sophisticated direct injection system that boosts power and fuel efficiency for cleaner, more economical operation.
RX270XVT (Sport 402 and SPR)
The SPR model engine is a common rail variable turbo 2.7 litre diesel which generates maximum power of 137kW @ 4000rpm and maximum torque of 402Nm @ 1600rpm providing a quick engine response and outstanding acceleration when towing.
---
Transmission:
5-Speed Automatic
The E-tronic automatic transmission provides smooth and quiet operation. The advanced adaptive shift programme monitors the vehicle's operational status and can anticipate the driver's intentions, while optimal gear changing delivers the best driving performance at high speed and improves fuel efficiency.
Full-Time AWD (Sport 402 and SPR)
The all-wheel drive system distributes 60% of the torque to the rear wheels and 40% to the front wheels at all times. This provides quick starts and great overall responsiveness, for improved driving safety under all road and weather conditions. Whenever any given tyre starts to slip, power is immediately transferred to those tyres with traction for maximum grip when starting out or during cornering.
Part-Time 4WD (TeamMate and SPR 360)
Part-time 4-wheel drive is simple and offers great drivability. Normally, the vehicle is driven by the rear wheels only, lowering fuel consumption because of the lower rolling resistance. The driver can switch the transaxle to four-wheel drive while the vehicle is in motion whenever additional traction is required.
---
Safety:
Safety Smart
The Rexton is equipped with cutting-edge active safety systems, including the Electronic Stability Program, which integrates the electronic brake force distribution, the antilock braking system, brake-assist system, traction control system, and active rollover protection. The ESP monitors the vehicular status at all times, and takes charge of engine output and brake force the moment the driver is in danger of losing control. ESP not included in 360 Sport or TeamMate models.

Maximum Protection in a Collision
Rexton is designed to withstand impacts and disperse impact force most effectively in order to ensure the safety of all occupants. The front crossbar is bolted onto the frame, and both the front and rear bumpers are reinforced for better impact absorption in head-on or rear-end collisions. The overall chassis is also fortified with high tensile-strength steel plate. Inside, the driver is safeguarded by a collapsible steering column. Both the driver's and front passenger's seats are equipped with the seatbelt pretensioner and load limiter.
---
Specifications: